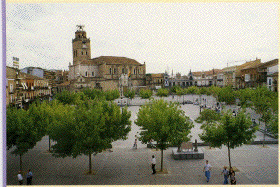 The Main Square of the "Hispanidad".
It dates from the 17th century and is the traditional ground for markets and fairs. The buildings surrounding it provided a focus of communal economic and religious life. They include
TheTown Hall, dating from 17th century, hosting the Medina City Council.
The Arch of the dwellings (17th century); it displays on its facade the arms of the Collegiate Church.
The Royal Palace. Only some remains are preserved. From the 14th to the 16th century it was the official seat of the rulers of Castille.
---